I've been doing a lot of research on blogs lately. My research yielded one basic result: time to update.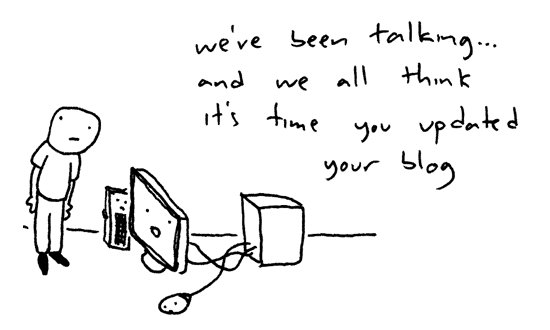 So as you can see, this blog got a little facelift this morning. Things are looking up. No swelling, no stitches, no scaring. I like it so far, and hope to add more improvements over the next few weeks.
In any case, the theme of this post is
transition
. I recently turned thirty, and along with it, quit my part-time job of 6.5 years. We moved out of the yurt and into our house, re-started a small eBay business, and are looking towards the future with empty pockets and super-exciting ambitions. Like I said -- transition.
Blogging has become quite an epidemic, and the amount of information on how to monetize a blog is prolific! I've had ads on this blog almost since its inception, and have amassed a grand total of $11. This amount of money is obviously pitiful, and is the result of 30 minutes total-time-invested over the past four years. I know - I can do better. Right?
So in an effort to revitalize this blog, I'm going to keep posting about yurts, and answering questions about our yurt. I LOVE yurts, after all! I'm also going to post about Building Our House/Mom's Barn. Erin and I built this structure, our home, with just our four hands (we admit regrettably to hiring an additional four hands to help with framing). It was an epic adventure spanning the two years this blog was
mostly
silent, and I'm really excited to try and fill them in. I'll also keep you up to date on the monetization of this blog (if its legal - need to do some more research!), as well as the status of our life dream, eBay business, adventures, empty pockets, etc.
So keep yourselves posted as this blog re-shapes itself, and please feel free to ask questions and comment, and help me stay updated!